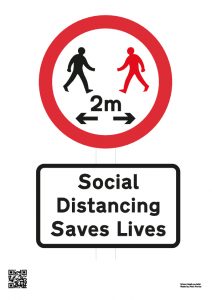 Social Distancing or Physical Distancing is a proven method of reducing the transmission of contagious diseases.
Following the discovery of COVID-19 Coronavirus and the consequent pandemic, health experts and governments have advocated the introduction of Social Distancing to restrict the transmission of the virus to reduce the strain of healthcare systems throughout the world.
Social Distancing is the process of ensuring that human beings remain at a distance of between one and two metres (depending of government advice). This generally doesn't include people living within the same household as they are likely to transmit the infection from their day to day social contact with each other. Instead, people living together are advised to wash their hands regularly and avoid touching their faces.
A few weeks back, my wife and I were discussing the need for the introduction of signs which was both familiar and easy to understand. These signs could be affixed to doors, within windows and community areas.
Using pre-existing signs standards, we came up with our first Social Distancing Save Lives sign.
If you wish to use our signage in printed media, please contact us beforehand.